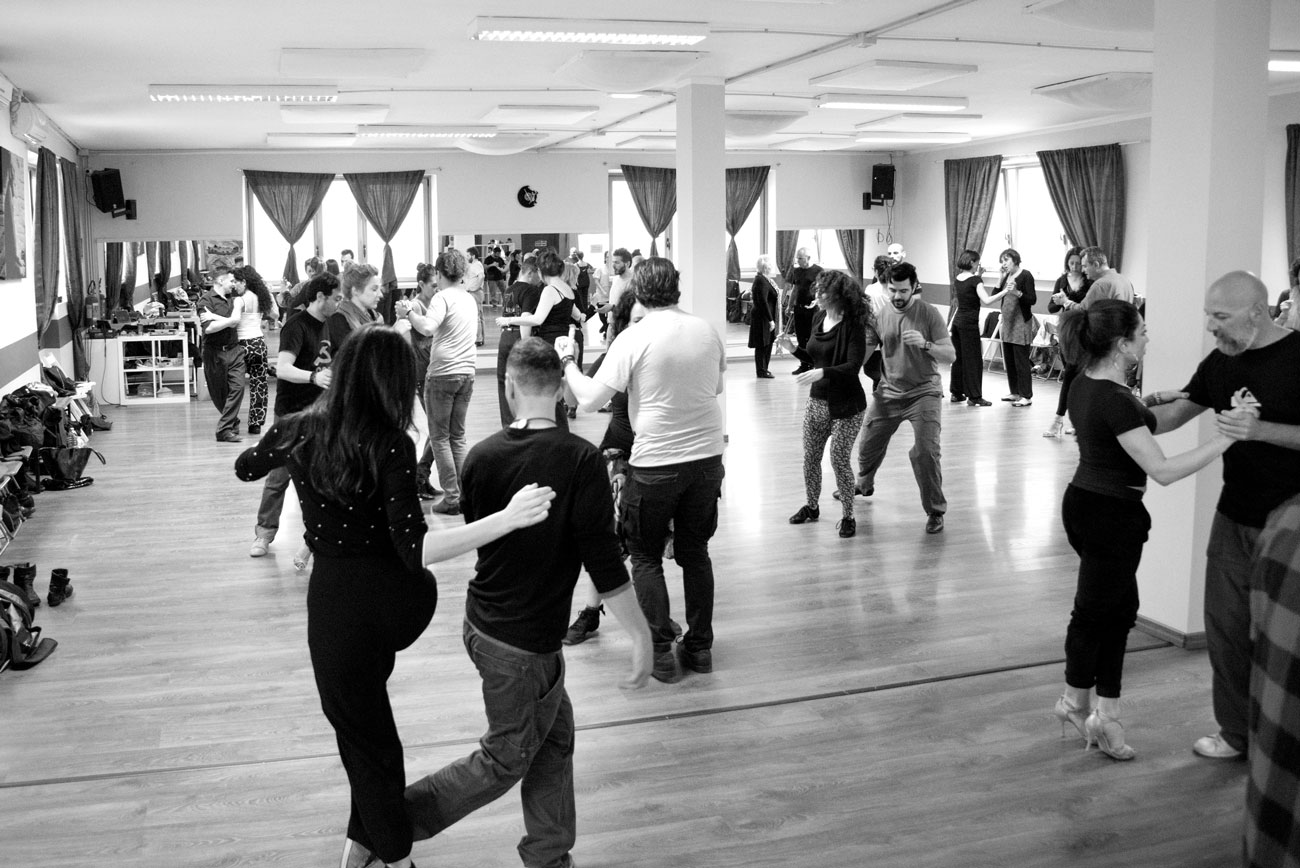 If you really love to dive into the soul of tango don't miss our workshops!
At Caras de Tango, we want to propose to you something different from the usual classes. In agreement with the teachers, we want to offer you the chance to deepen some tango-related topics through a specific selection of workshops, challenging but very exciting at the same time.
All the workshops will be taking place at Proyecto Gricel Tango School located at Via Bessanese 1/D. This cozy space is air-conditioned, with an excellent parquet, café area and with high quality sound equipment.
IMPORTANT
Except for the Tango History workshop, participants to all the workshops need to register in couples.
Since the number of participants in each workshop is limited to 20 couples, we encourage you and your partner to register as early as possible to avoid missing out on enrolling in a workshop you want to take.
If you are looking for a partner for a specific workshop or simply to share part of this experience with other people, then this Facebook group can help to share requests and connect people each other.
---
Chacarera (open to all levels)
Thursday, 25 of June 2020
4pm – 5pm (Session I), 5:15pm – 6:15pm (Session II)
Teachers: Roque Castellano and Giselle Gatica-Lujàn

Maestros of folk dancing, Roque and Giselle will drive us through a full immersion course of the Chacarera. They will explain the cultural background of this folklore, how the zapateo should be properly danced by the men with all the different variations and also how the women can apply different variations to spice up their chacarera.
---
Contactango (open to all levels)
Part I: Friday, 26 of June 2020
Part II: Saturday, 27 of June 2020
12:00 – 1:15 PM ((Session I), 1:30 – 2:45 PM (Session II)
Teachers: Javier Cura

Contact improvisation is a partner dance based on the physical principles of touch, momentum, sometimes shared weight, and most important - a shared point of contact. As a spontaneous dance Contact Improvisation challenges us to accept whatever happens in the present and to transform it into a creative expression.

Javier Cura will teach a contact improvisation course mixed with principles of Tai Chi, specifically oriented to tango dancers. This workshop is aimed at improving your perception of your body and the ability to play with your axis and awaken various body parts to widen the tango connection.
---
Musicality (intermediate-advanced level)
Friday, 26 of June 2020
3:15 – 4:15 PM (Session I), 4:30 – 5:30 PM (Session II)
Teachers: Selva Mastroti and Marcelo Ramer, Carina Lucca and Leo Mosqueda, supported by Bandonegro orchestra

This is a unique opportunity to experience tango as both music and dance at the same time! Two talented teaching couples together with Bandonegro orchestra will give a very interesting and interactive workshop of tango musicality.
The structure of tango music is well defined, layered and predictable. However, our improvising a tango, vals or milonga can be as simple or as complex as our imagination and skill allows. As leaders and followers, we can respond to the music in many ways; by interpreting the rhythms and the melodies of a song, by playing with instrumental solo or by playing with the upbeats, downbeats and accented notes. All we need to do is learn how the music works and how it is structured to bring our dancing to an exciting new level of expression. Understanding, recognizing and responding to the music with greater control and precision will enrich our dancing styles and increase our level of enjoyment and passion for tango!
Topics
How to recognize and dance to the typical instruments in a tango song: double bass, violin, piano, bandoneon and singer (yes, the vocals is an instrument too!) and how each of them can be played to create a well-defined style (like D'Arienzo, Pugliese or Di Sarli)
How to distinguish the rhythmic and melodic parts within a song and dance accordingly
How to dance uniquely to tango, to vals and to milonga
Teachers supported by musicians will explain all of these musicality elements giving their own musical interpretations and offering us a variety of options that best fits our style!
---
Tango history (open to all levels)
Saturday, 27 of June 2020
3:00pm – 4:00 PM (Session I), 4:15 PM – 5:15 PM (Session II)
Teachers: Marcelo Rojas

Considered one of the most popular and experienced tango djs, Marcelo Rojas will give an engaging lecture on our tango history. Marcelo works in La 2x4, a radio program in Buenos Aires which is entirely dedicated to dissemination of Argentine Tango. He has a vast knowledge of tango history from the beginning to now and he's given workshops all around the world on this topic. It is a great chance both for dancers and djs to gain enriched knowledge about the tango culture and appreciate the diversity that this dance offers us.

Starting from the 1926 to present, passing through the Golden Age of the Tango, Marcelo Rojas will go through the evolution of the tango styles in relation with the historic period. He will also explain the different aspects a dj should take into account while playing during a milonga, amongst other interesting topics.
---
Secrets of the Embrace (intermediate-advanced level)
Sunday, 28 of June 2020
4:30pm – 5:30 PM (Session I), 5:45 – 6:45 PM (Session II)
Teachers: Sabrina Veliz y Ruben Veliz

In the final conclusion of the special series of seminars offered at Caras de Tango, the "Secrets of the Embrace" brings your tango learning experience full circle through the soul of tango... the Embrace. By focusing on posture, axis and balance to the service of the comfort and the connection in the couple, Los Veliz will detail how to send and to receive the information to achieve a fluid communication.