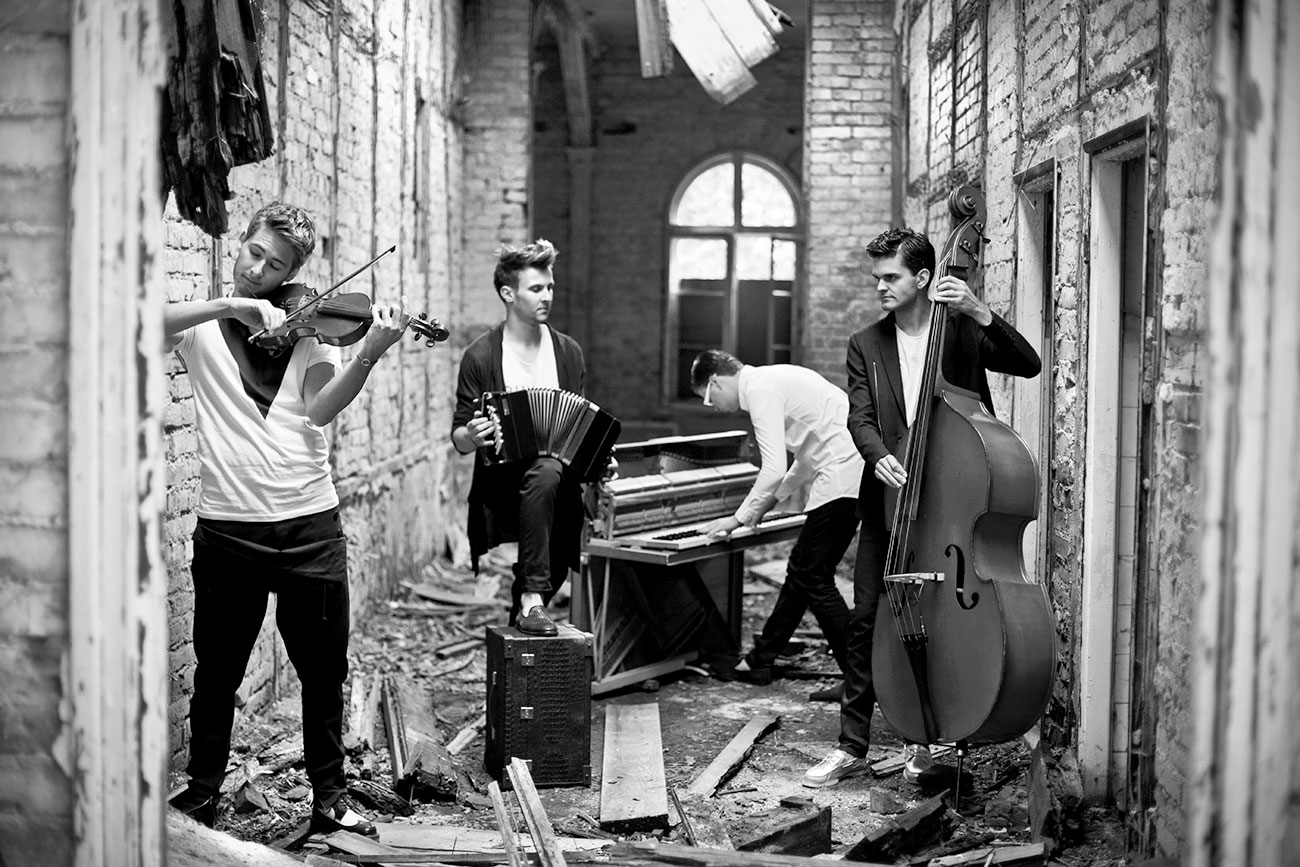 Bandonegro Tango Orchestra
Bandonegro Tango Orchestra is a world class Polish tango orchestra, one of the most intriguing and recognisable performers of this musical style. They specialise in both the traditional Argentinean tango and tango nuevo, as well as compose their own pieces adding the elements of jazz and classical music. Their incredible passion, ideas for music, fresh sound and unique style that is perfect for dancing have won the hearts of audiences all over the world as they are deemed the best tango orchestra of their generation.

At the very onset of their carrier, when they were 18, Bandonegro won the international competition "PIF Castelfidardo" in Italy, and only a year later, they recorded their first album "Tango Nuevo by Astor Piazzolla". Since then, they have been constantly intensifying their activities aimed at the promotion of the tango in Poland by performing in prestigious concert halls, philharmonics and musical theatres.

They have presented their music during the most important tango and jazz festivals in Poland: Krakus Aires Tango Festival, Recuerdo Warsaw Tango Festival, Łódź Tango Salon Festival, Podlasie Jazz Festival, and abroad: in Argentina (Argentina Tango Salon), Germany (Schleswig Holstein Music Festival), the Netherlands, Italy (Torino Tango Festival), France (Tarbes Tango Festival), Denmark (Copenhagen Jazz Festival), Sweden (Stockholm Tango Festival), Switzerland (Geneve Tango Festival), Finland (World of Tango Festival) and Norway (Oslove Tango Festival).

The band cooperates with prominent dancers, such as Roxana Suarez & Sebastian Achaval, Facundo Pinero & Vanesa Villalba, Clarisa Aragone & Jonathan Saavedra, Los Totis, as well as tango vocalists and musicians: Nelson Pino, Roberto Siri, Carlos Roulet and Andres Martorell.

In 2019, Bandonegro was on a five-week tour in the Argentinean Buenos Aires, performing in numerous prestigious clubs, for example, Canning or La Viruta, and during the Argentina Tango Salon Festival. They presented a special version of "Gallo Ciego" during the finals of Buenos Aires Tango World Cup – the largest tango event in the world. As the only Polish artists so far, they had an opportunity to perform for José Colángelo, the last Troilo orchestra pianist, and Fernando Suárez Paz, a legendary violinist, who was a long-standing member of Astor Piazzola's quintet.

Bandonegro has already recorded 5 albums published by prestigious Polish record labels: Dux, RecArt or SJRecords. "Tanchestron" (2017), "Tangostoria"(2020) and "Color Aires" (2022) are more traditional, whereas "Tango Nuevo by Astor Piazzolla" (2011) and the original "Hola Astor" (2019) present a fusion of tango and some elements of jazz and rock, which has been deemed revolutionary by music critics.

The musicians more and more often turn towards composing their own pieces for such renowned institutions as, for example, the German Association of Public Broadcasting Corporations ARD or Henryk Wieniawski Musical Society of Poznań. Bandonegro has received a scholarship from the Mayor of Poznań for their exceptional musical achievements, and a Medal of Young Art, awarded to talented artists from the Wielkopolska Province. They have also been granted an honorary patronage by the embassy of Argentina in Poland.