Juana Sepulveda & Mariano "Chicho" Frumboli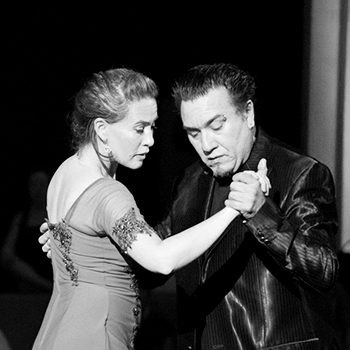 No doubt Chicho Frumboli has played a key role in the creative evolution of Tango in the last 15 years. He is renowned worldwide for his personality, musicality and creativity. His classes are a must for those who are just approaching tango, as well as for those who want to deepen their knowledge of this dance. His style is characterized above all by musicality and improvisation. In a unique way, he expresses the essence of the music in his dancing.

Juana Sepulveda, who is one of the youngest stars in the tango world, spans the entire range of expression with an innovative subtlety and a stunning manifestation of power in every movement. All this blended with her unswerving musicality and pure sensuality. With over 15 years of Tango experience, with great technique, musicality and charisma, today Juana is one of the role models as a Tango dancer. She devotes her time touring the world to transmit her art and experience.

Chicho & Juana have been dancing since 2007 and form a unique duo on stage as well as in their teaching classes, seminars and workshops at festivals and major schools in the world.
---
Carina Lucca & Leo Mosqueda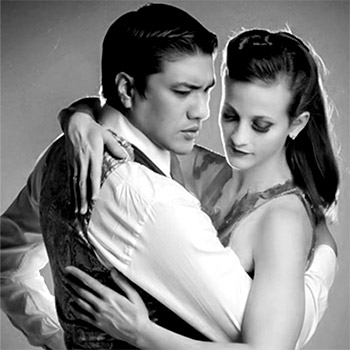 Carina and Leonardo have been dancing and teaching tango and folklore professionally for 20 years. They have an extensive background in ballet, jazz and contemporary dance.

As previous members of some of the most important Argentine companies, they have shared the stage with renowned musicians such as Mariano Mores, Rodolfo Mederos and his Orquesta Tipica, Raul Carnota, Franco Luciani and Facundo Guevara, among others.

Carina and Leo have been living in Frankfurt where they founded "Tango Rojo" tango school. They have also participated in international Tango festivals in Mallorca, Nice, Alicante, San Sebastian, Seville, Sada, Porto, and Lugo.
---
Giselle Gatica-Lujàn & Roque Castellano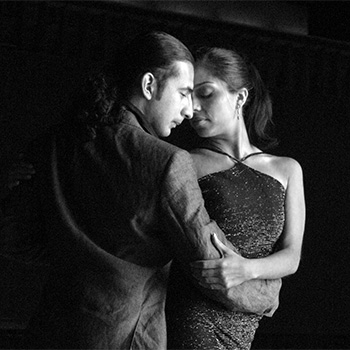 Giselle and Roque are a young and talented couple of dancers, with an intense artistic trajectory. Both of Argentinian origin, they took their first steps in dance at a very early age, completing their training and beginning their professional activity in Buenos Aires.

They developed a personal style that preserves the typical forms of the milongas tango while, at the same time, adds elements of the new tango. Their style is pure elegance, dynamic and slow-paced. It reflects a heartfelt hug that translates the movement into the attentiveness of their feet.

In 2006 they moved to Spain, where they currently live. Between 2010 and 2012 they lived in Germany, where worked for a tango dance academy giving classes in different cities of the country.
Thanks to their sense of art and skills in teaching they have been present in several theatres, milongas and festivals in Spain, France, Italy, Germany, Swizerland, Austria, Finland and Portugal.

Their educational methodology transmits the importance of being sensitive to music, the hug, the partner, the step and the space. Their teaching method focuses mainly on improvisation, projection and musicality, which become characteristic elements by means of which their students can elaborate a personal and passionate dance style.
---
Selva Mastroti & Marcelo Ramer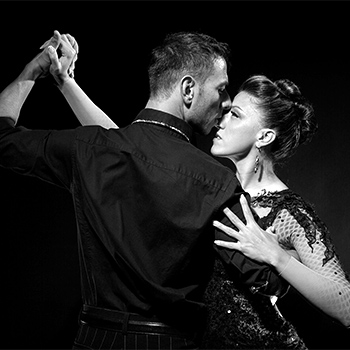 Selva and Marcelo started their artistic training with Argentine folk dance and classical dance. They discovered Argentine Tango during adolescence in Buenos Aires and learned with many masters who have taught them, above all, the love and respect for this dance.

Being a couple for 14 years, they have worked for companies and festivals and have never stopped studying to perfect their style. Selva and Marcelo have been living in Turin since 2012 where they founded the renowned school of Argentine tango "Proyecto Gricel ASD".

As dancers, their improvisation style combines freshness, spontaneity and simplicity. As teachers, their generous and well-structured teaching style makes the learning journey for the student easier, funnier and richer in content. Starting from the deepest roots of Tango, they go through all its facets of basic techniques to both simple and complex movements without neglecting the musicality in the dance and harmony in the couple.